Blog
I answered my phone back in September.  On the other end was a woman who would soon change my outlook on life and make me realize just how strong the human spirit truly is.  Her name is Anne Carr.
  Anne and her husband Tom moved to Charleston in 2008 and have been visiting for more than 30 years.  They moved to Charleston from Montgomery County, Maryland just outside of DC where Tom was fire chief and dedicated his life to fire and rescue.  He was involved in the Oklahoma bombing aftermath, he was at the Pentagon after 9/11 and is highly decorated with awards and medals from his 30+ years of service.
Tom was hired on as the new Fire Chief of the City of Charleston by Mayor Joe Riley. Shortly after taking on this role, Tom started having trouble with his arm and was treated for tennis elbow. When it moved up to his shoulder and wasn't getting any better the doctors diagnosed him with Parkinson's. Tom didn't have the shakes however, and treatment just wasn't working. After going to the Mayo clinic, Tom was properly diagnosed with MSA, or Multiple System Atrophy in September 2011. MSA is best described as Parkinson's on steroids. It is a rare condition that damages the nervous system and slowly causes loss of physical functions. The survival time is 7-9 years. Since then, Tom has had to retire and his home had to be altered to suit his needs.
For six months, Anne and Tom moved to Sullivan's Island while their West Ashley home was being reconstructed with ramps, a new master bath, and outdoor living space. During this time Anne was moving boxes when one fell off a shelf and hit her in the chest. It hurt more than usual and she decided to go see someone about it. Doctors found a small lump in her breast and determined Anne had triple negative breast cancer in July 2012. Triple negative breast cancer is one of the more aggressive subtypes and one that is more likely to recur in the breast or elsewhere in the body in the first 3 years post treatment. Fortunately, it does respond well to chemotherapy as opposed to hormone treatments. Anne has had a lumpectomy and months of chemo and has managed to take care of Tom through it all. She has had help from hospice and a family nurse. Her grown children have also moved back.
 I call her courageously strong…she calls it being stubborn.
 When Anne called me back in September, they had recently moved back in and the house was in disarray. She was planning a retirement party for Tom to be held at the house the end of October (I told you this woman is strong). We had a lot of work to do in about 5 weeks. Realistically, we had to prioritize; re-upholstery and built-ins would have to wait until after the party. First thing first…paint!
Before, the living room was yellow, the handed down and "picked" furniture needed attention (yet another reason I love Anne, she loves to shop secondhand), and other than the mirror, the walls were bare.
The dining area is long and narrow and was painted with an 80s faux finish in blue. The ceiling felt low because the dark beams drew your eye up (we're not quite sure what the previous owner was going for, but oh well, it worked for them). Even with the wall of windows, the room felt dark and the family antiques got lost with all of the wood.
_______________________________________________________________
We started by painting all of the walls Sherwin Williams Agreeable Gray and the ceiling and trim Snowbound. Wow, what a difference paint makes!
Anne inherited some great pieces of furniture from Tom's family including the early 1900s wingback and footstool and a pair of tufted slipper chairs. The couch was one of Anne's finds. All were re-upholstered in gorgeous coordinating fabrics.
I think the biggest transformation was in the dining area. The beams no longer stand out having been painted the same color as the ceiling. The doors and trim work were painted as well. I choose a subtle ivory striped linen curtain that filters the bright afternoon sun. When drawn, the room still feels light and airy. Now Anne and Tom's family antiques take center stage to give the room a traditional and inviting feel.
The huge fireplace was surrounded by brick and made that side of the room feel heavy.
Anne had a great idea! She wanted to use old doors to construct built-ins on either side of the fireplace. She told me we could find these doors under the house of Tom's aunts who live South of Broad. So I met Anne there one morning, she with her head lamp and me with my flashlight. We ducked our heads and went under this house. We went through a pile of probably 15 doors to find the right ones. Again, the mental and physical strength of this woman amazes me. Not only did we find doors, we discovered old decorative iron fireplace covers and iron sheets embossed with what looks like Greek figures (Anne is saving those for another project).
I called on my carpenter, John Herron, to tackle this built-in project and he was more than willing to take the challenge. He and I met South of Board to determine the doors would work. We loaded two in his truck. And with a lot of hard work, John turned these…
into this…
Now the brick isn't so overwhelming and the Carrs have plenty of storage. What a great way to convert all that unused space and we used pieces of the past to do it!
Since September, the house has been transformed to a lighter and brighter space that shows off all of Anne's pieces she has collected over the years. She feels good about her home and comfortable having people over.
Through this 4 month transformation, Anne has reinforced the thought "don't sweat the small stuff". The little things will work out and if they don't, it's okay. Anne is an inspiration and a pillar of strength. I'm happy to say she had her final chemo treatment Friday, 1/18/13 and the outcome looks very good. Tom is doing well and hanging on just as strong.
Thank you Anne, for making that call back in September. Knowing you makes me a stronger person.
This is the "before" of a dining room that belongs to a couple who enjoy entertaining and like to have fun.  The dining room was not conducive to either and I was brought in to help.  The room was painted a rich paprika color within the past year.  That was our inspiration.


BEFORE
The tall square table only allowed seating for four, the overhead lighting was a builder option and the art really didn't make a statement.
_______________________________________________________________
So with new furniture, lighting, art and minimal accessories…the room was transformed!


The table was the first purchase. It is a gorgeous mid-century, Danish modern table with two hidden extension leaves that seats 6-10. This was a Goodwill find and the homeowner sanded and restained it to bring out its natural beauty. The green faux leather chairs are new and the armchairs are mid-century as well, re-upholstered with a rich teal fabric. The room is not large so the overhead glass fixture does not take up much visual space.  I kept the window treatments simple so they wouldn't compete with all the color.

This rustic credenza from Nadeau was the ideal piece for under the windows and the colors blended perfectly. The homeowner wanted to display her crystal so glass-front doors were the answer. The accent lamps complement the wall color, coordinate with our armchairs and fit just right under the windows.  The vintage Pennsylvania House mirror and tall vase add just the right amount of sparkle to the corner.

The original artwork is fun, colorful and helps to tie the whole room together.
Overall, the room is a blend of eras, styles, textures and finishes. However, the balance of the warm, contrasting colors makes it all work together.
REUSE THE BEAUTY OF THE PAST TO CONSERVE WHAT WE HAVE FOR THE FUTURE.
I am pleased to announce the expansion of STYLE REVIVAL! I outgrew the booth and my garage was next, so I decided to go BIGGER.  Come visit the new space inside the Antiques Market on Coleman Blvd, Mt. Pleasant.  You'll discover the latest "picks" of  lighting, art, mirrors, accessories, furniture, gifts and much more.  A great selection that constantly changes, all at prices you'll feel good about…because everyone deserves a beautiful surrounding.

Pair of Fabric Cylindrical Lamps $65
Vintage Tan and Gold-Accented Lamp $50
Large Twig and Leaf Wreath $55
1970s White Wicker Pendant $35
Handpainted Two-Drawer Vintage Chest $65
Brass Trophy Lamp $48
Aged Brass Chandelier $225
Antique Mahogony Chest of Drawers $349
__________________________________________________________________

Asparagus Lamp $48
1950s Credenza $225
Anitque Butter Churn $85
Vintage Glass Chandelier  $85
Various Milk Glass $9-$18
Original Bird Art $55
_________________________________________________________________

Vintage Rocker $30
Seafoam Green Storage Ottoman $48
1971 Barrel Chair (to be reupholstered) $70
Pair of Handmade Floral Plaques $22
Vintage Textile Art, "Palace" $45
Brazilian Figurenes $9
Various Lamps $35-$40
__________________________________________________________________

Antique Newspaper Rack $35
European Wicker-Wrapped Glass Jug $65
Tall Brass Vase/Candelabra from India $65
Antique Chair $199
Glass-Top Barrel Table $65
Various Wall Decor $10-$75
_______________________________________________________________

Located at 634 Coleman Blvd, the Antiques Market sets in the corner of the Moultrie Plaza between Nadeau Furniture and Southern Accents. STYLE REVIVAL has hundreds of special finds and one-of-a-kinds.   And the customer service is excellent, just ask Jan and Mikky!

___________________________________________________________________
REUSE THE BEAUTY OF THE PAST TO CONSERVE WHAT WE HAVE FOR THE FUTURE
Maybe it's the season or maybe just me. Okay, it's probably me.   I'm constantly moving around stuff in my home.  The past couple of weeks I've been switching up my living and dining rooms. Fun Stuff!!! I just like a change every now and then…
BEFORE


Before, I had blue and green accents: the rug, artwork, glassware and pillows. This look is earthy and muted.
AFTER


After, the color scheme is pretty neutral with hints of green and blue.  To modernize the space I changed up the pillows, artwork, rug and lighting.  The runner I had originally bought for our long hallway, the pillows were stored in a bag under the guest bed and the mantel art was purchased on clearance at GDC.   I had it up in the kid's play area for a year before I moved it down here…love the message.   The tall floor lamp, octagonal table and accent chair are Habitat finds.   Overall, the room is still very earthy, but it's the geometric pillows and rug that make the statement and balance the room.  I switched the mirror and textile art from their original walls to brighten the space up as you walk in and replaced the framed geometric art with fish-eye mirrors. All of the main funiture remains in the same position while the accent pieces have been moved around.
Remember, look in your own home first if you want a small change.  A piece of art, a pillow or a collection of accessories will look very different in their new space.  Often, that one piece can be a big inspiration for an even greater change.
REUSE THE BEAUTY OF THE PAST TO CONSERVE WHAT WE HAVE FOR THE FUTURE
STYLE REVIVAL in the Antiques Market on Coleman Blvd will be expanding September 1, this weekend!  New furniture, art, lighting and accessories.  Great gifts for the upcoming season.  Ready for a change in your home this fall, come by and see the new space!
We all have a guest room that may or may not be paid much attention.  Mine is the latter and acts as an office, guest room, holding room/catch-all and play room for the kids (mostly while I'm working,
).
I was ready for a change and wanted to brighten things up without spending much money.  The room was painted two years ago and I still enjoy the color, so that was a keeper.  I found the duvet ($30) with a complementing yellow print and changed out the blue/green bedskirt with white ($40).  The accent pillows I had.  For the windows, I removed the woven shade and linen sheers and replaced it with a white cellular shade ($46) to modernize the space.  The drapes were passed down from a friend and extend floor to ceiling.  The rod is a simple piece of bamboo (free and free!)  I don't have a headboard in this room so I hung a large piece of art from another part of the house.  Since our closet holds our computer desk, my husband requested an additional work space.  The console table was a hand-me-down from my parents and the ottoman and pineapple lamp were thrift store finds.  I found the beautiful 1960s bubble-glass bedside lamps at a flea market.  With some paint and a rewire, they make a great statement!  The pear art is a piece of fabric from
TXTLART.com
stretched over a homemade frame, also from another part of the house.  Total cost for this simple transformation…$184.
If you want to transform a space in your home and not have to spend a lot, I suggest shopping locally first…your own house!  What you are used to in one part of the home may look completely different in another, you'll have a new appreciation for it. Start with a piece of art, pillows and even furniture.  Don't be scared to move things around, you'll be surprised!
BEFORE

AFTER

REUSE THE BEAUTY OF THE PAST TO CONSERVE WHAT WE HAVE FOR THE FUTURE.
Visit STYLE REVIVAL at the Antiques Market on Coleman Blvd for great, everyday pieces to complement your home! You can also shop gifts and decor thru my store page just above!
Want to add some personality to your space!  It's the GRAND OPENING of PIX by SHARON, my ETSY store!  PIX has stylish, vintage decor and gifts for you, your friends and anyone that loves to entertain and decorate in style!  You can visit and browse through the "store" page here or directly online at www.etsy.com/shop/PIXbySHARON. Please visit often as I am constantly adding new pieces as I pick them!  If you like what you see, a friend may too, so forward it along!  Charlestonians, avoid the shipping and call me direct, 478-0706.
Don't forget STYLE REVIVAL in the Antiques Market on Coleman Blvd for the bigger pieces:  furniture, lighting, art, mirrors and so much more at a very good prices!
If you don't see it, I will find it!  Just let me know what you're looking for.
REUSE THE BEAUTY OF THE PAST TO CONSERVE WHAT WE HAVE FOR THE FUTURE
​
Last month my dentist, Dr. Jared Slovan, asked if I would design his waiting room.  He shares this space with three other dentists, all with different styles.   The space is approximately 12'x15′ and the criteria was that we had to have seating for 10+ patients, had to incorporate arm chairs, magazine storage, newspaper and book display and not to use the color purple, :).   I was very excited for the opportunity and went right to work.  I wanted the room to appeal to the masses and have a timeless quality, not too trendy and definitely not boring.  Here is the before:


The room felt dark, the wallpapered walls had been painted over, the furniture was in disrepair, and the chairrail (though practical) cut the room in half and the carpet needed replaced.

So we removed the wallpaper, tore up the carpet and slate tile at the entry, scraped the popcorn ceiling, and updated the recessed lighting.

We added crown moulding,  ebony colored bamboo flooring, painted the walls Analytical Gray by Sherwin Williams and freshened up the trim and ceiling with Creamy Delight by Valspar.
Here is the AFTER:

I think the show-stopper in this room is the light fixture! It's a beautiful 23″ chrome drum pendant from Rick's Lighting and adds the right amount of modern sparkle. The armchairs make a statement with their bold fabric and are balanced well with the faux leather accent chairs in ivory. I chose a seagrass rug for texture and linen-colored roller shades to lighten up the space. The demilune and side tables have a hammered copper top that add yet another element to the room. I kept the artwork simple with black and white photography highlighted with black matting and frames. This is a modern, yet classic waiting room that makes a great first impression!
BEFORE
AFTER

I met a lady recently through the blog, Ms. Donna Monk.  We exchanged a few emails back and forth and Donna told me she paints furniture. I'm always looking to work with great contractors and craftsman and I felt she was a good contact to have. I told her about a chest of drawers that I picked up from Habitat. The piece was too stained to refinish so I asked her about painting it. When I dropped it off at her house, I realized that Donna not only paints furniture and wood pieces, she revives them and captures what they once were, and they're beautiful. She is a true artisan. Donna will take a rugged piece of furniture or an old door or shutter and give it a distressed finish with either vibrate or muted colors. She has gorgeous pieces hanging on her walls and sitting on her floors.  You can contact Donna to transform your custom piece or purchase one at Chic Antique on Johnnie Dodds where she consigns.  Whether you call the style Shabby Chic or Coastal Chic, Donna will make it amazing.  Her craftsmanship is superior and her pricing is reasonable.  You can find her on Facebook at Donna Monk, Charleston or The Painted Cottage, Charleston.   What a great way to REUSE THE BEAUTY OF THE PAST…thanks Donna!
Ms. Donna Monk, The Painted Cottage, 843.819.6038

FROM
TO

FROM
TO
REUSE THE BEAUTY OF THE PAST TO CONSERVE WHAT WE HAVE FOR THE FUTURE.  Visit STYLE REVIVAL in the Antiques Market on Coleman Blvd., Mt. Pleasant.
a.  piece of a light fixture
b.  finial to a curtain rod
c.  garden ornament
If you guessed a piece of a light fixture then you're right!
Brand new QUIOZEL, old world styled, 14-light chandelier with an aged bronze patina. Measures 3 feet tall and 3.5 feet wide with 5 feet of chain and 10+ feet of wire. This would look amazing in a two-story foyer or a large dining room. $150 compared to…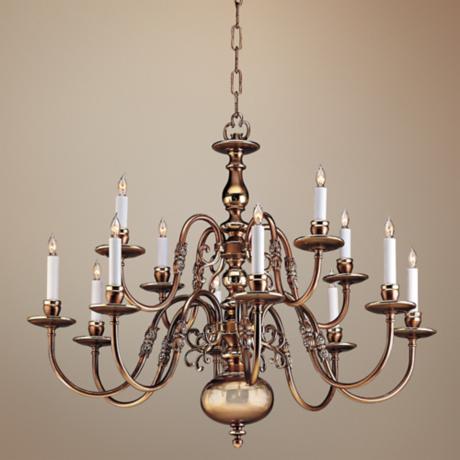 …over $1900!
Gorgeous, antiqued brass, 6-light chandelier in excellent condition and very heavy.  Measures 27 inches wide, 25 inches tall and has 12 inches of chain/cord.  $150
Modern drum pendant that measures approximately 18 inches wide and 2.5 feet tall. $100 compared to…
…well I haven't seen any this size so I couldn't find a comparison ;).
If you see something you like or have any questions, call me at 843.478.0706 or send  an email to sharon@sharonpayerdesign.com.  I will deliver!
REUSE THE BEAUTY OF THE PAST TO CONSERVE WHAT WE HAVE FOR THE FUTURE.  Visit the Antiques Market on Coleman Blvd, Mt. Pleasant and bring a piece of the past back to life!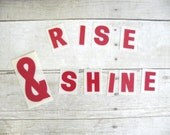 Good Morning!  Have the letters of the alphabet ever inspired you?  They can be inspirational literally or visually.   Think of them as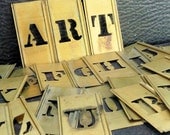 . My sister personalizes wooden ones with paint and appliques and gives them as baby gifts. She's real creative with nursery themes and colors, they're one-of-a-kind and so personal. If you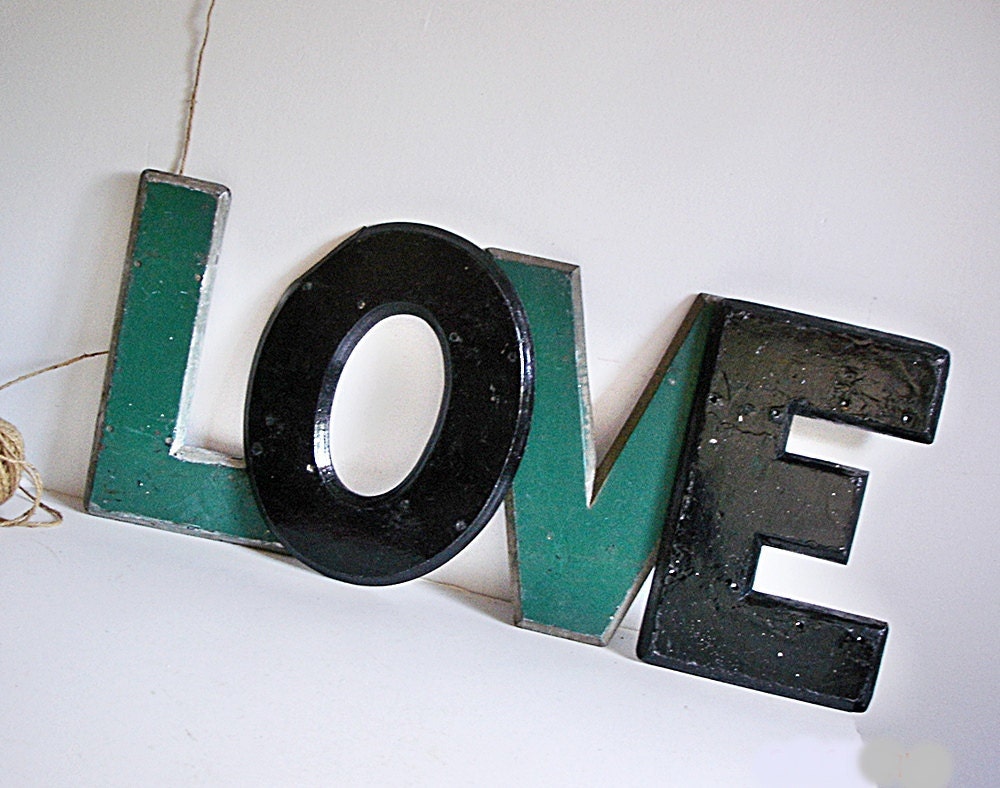 the idea and have a little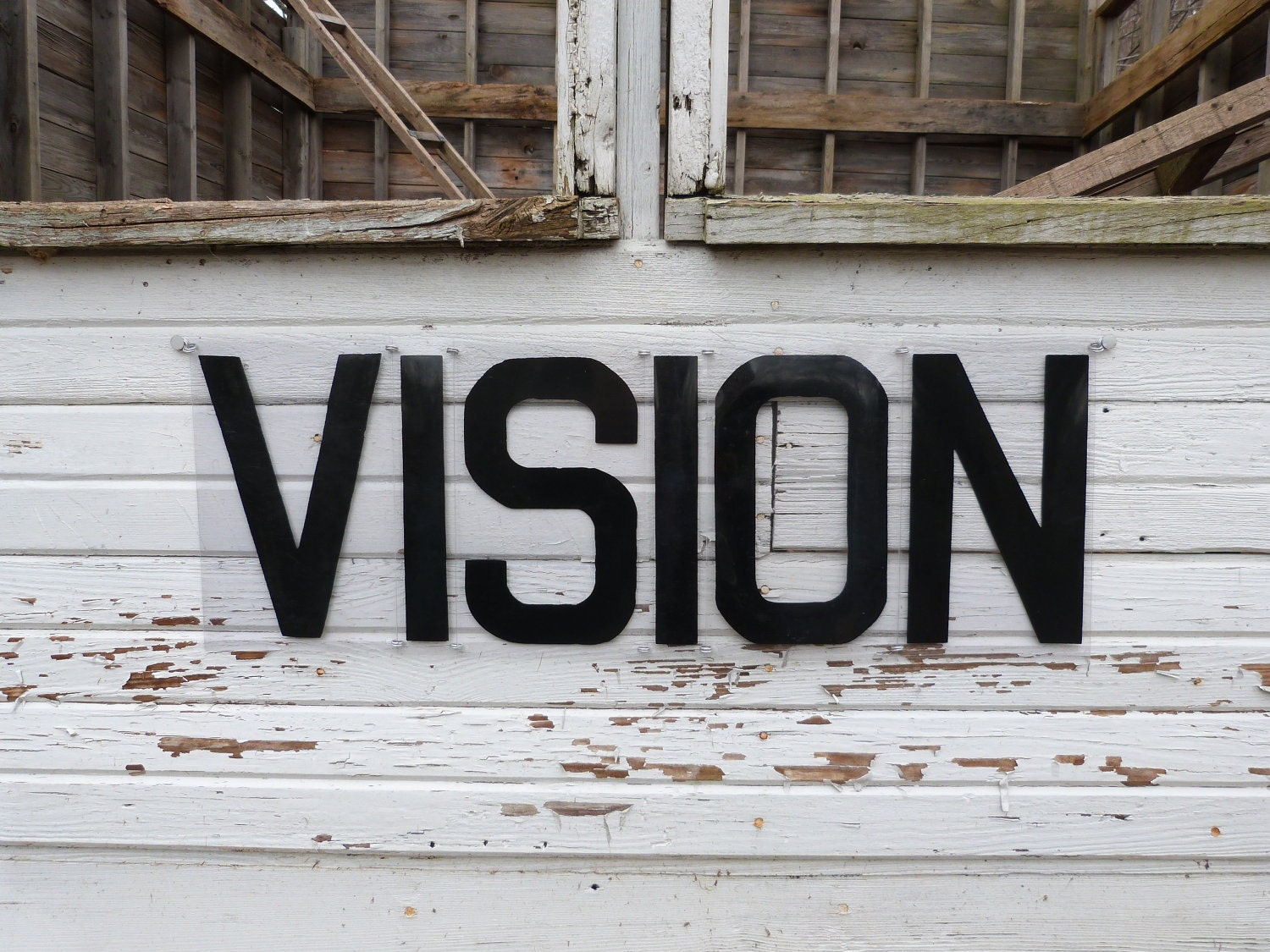 , you can create anything you want.  What a great way to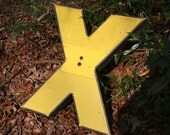 press how you feel or more so, how you want a room to feel: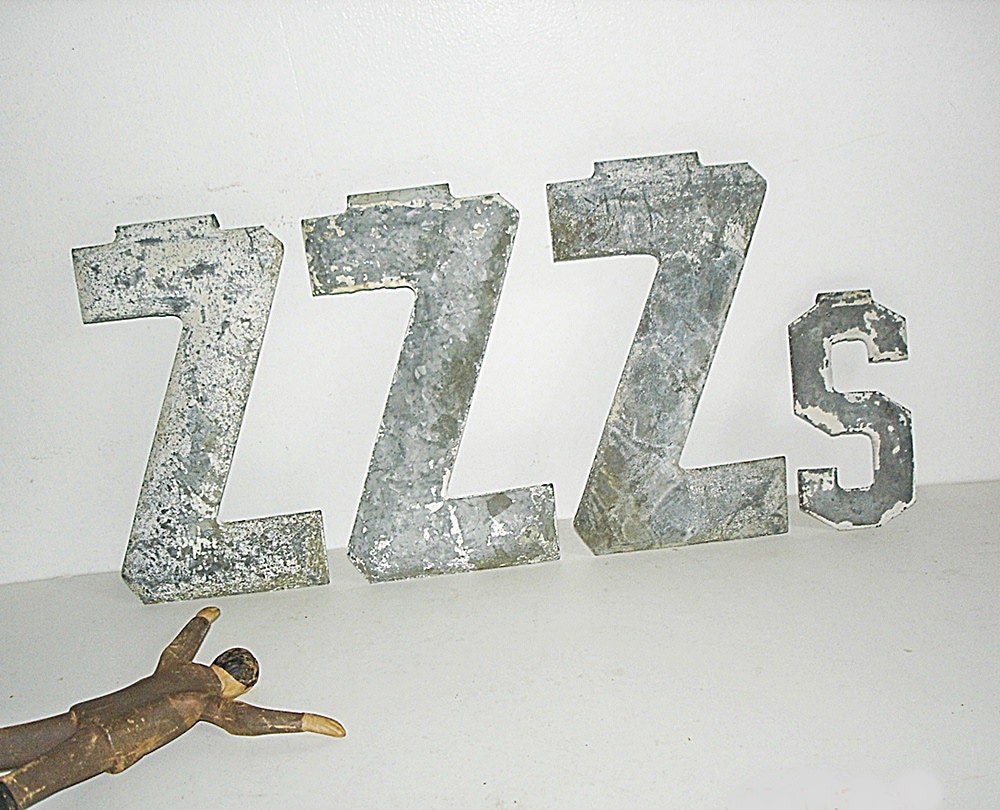 A BEDROOM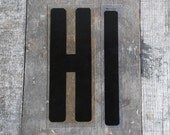 AN ENTRYWAY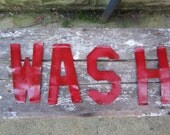 A BATHROOM or LAUNDRY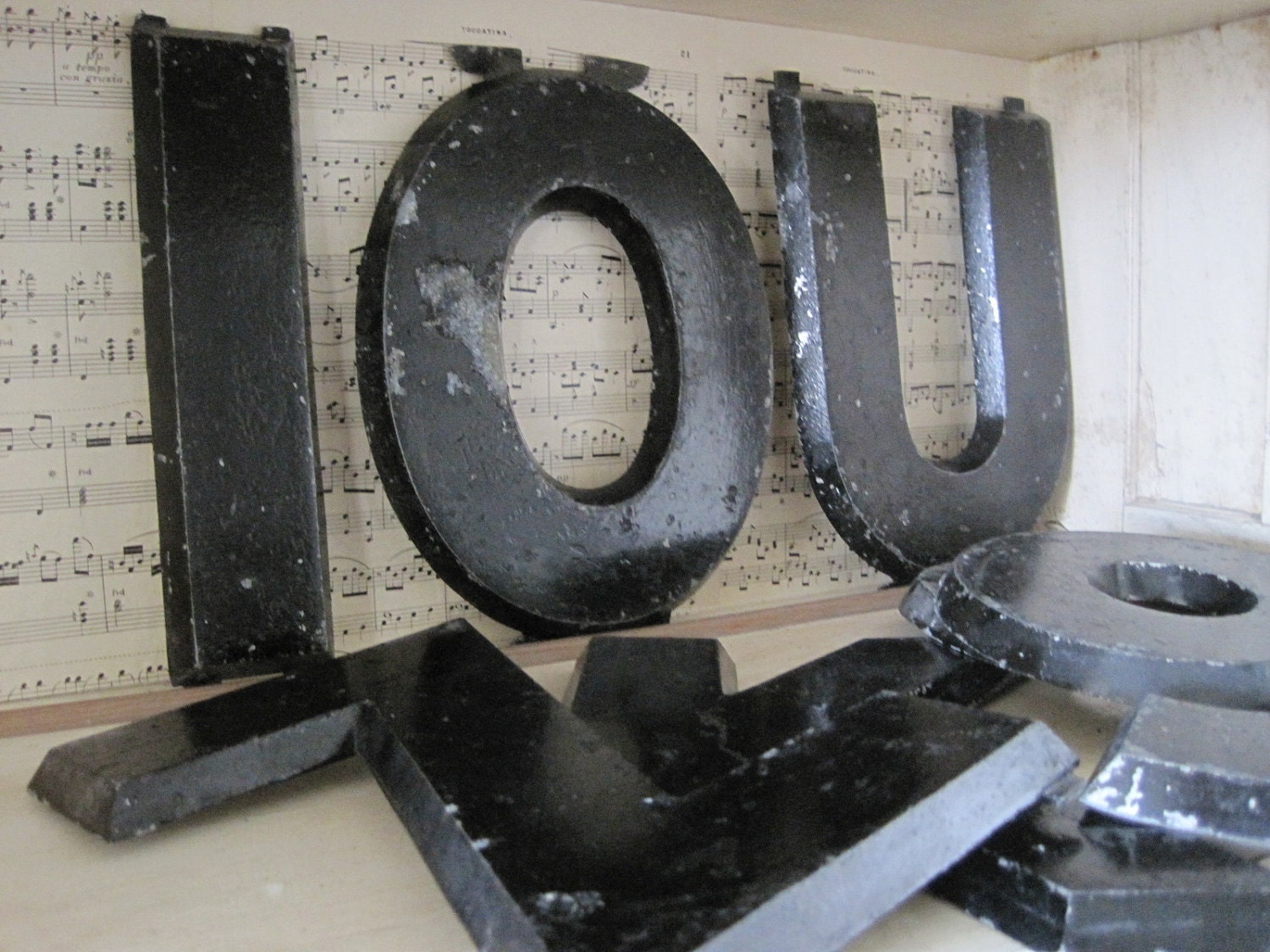 AN OFFICE
You can go on Etsy, Ebay or your local Antiques Market to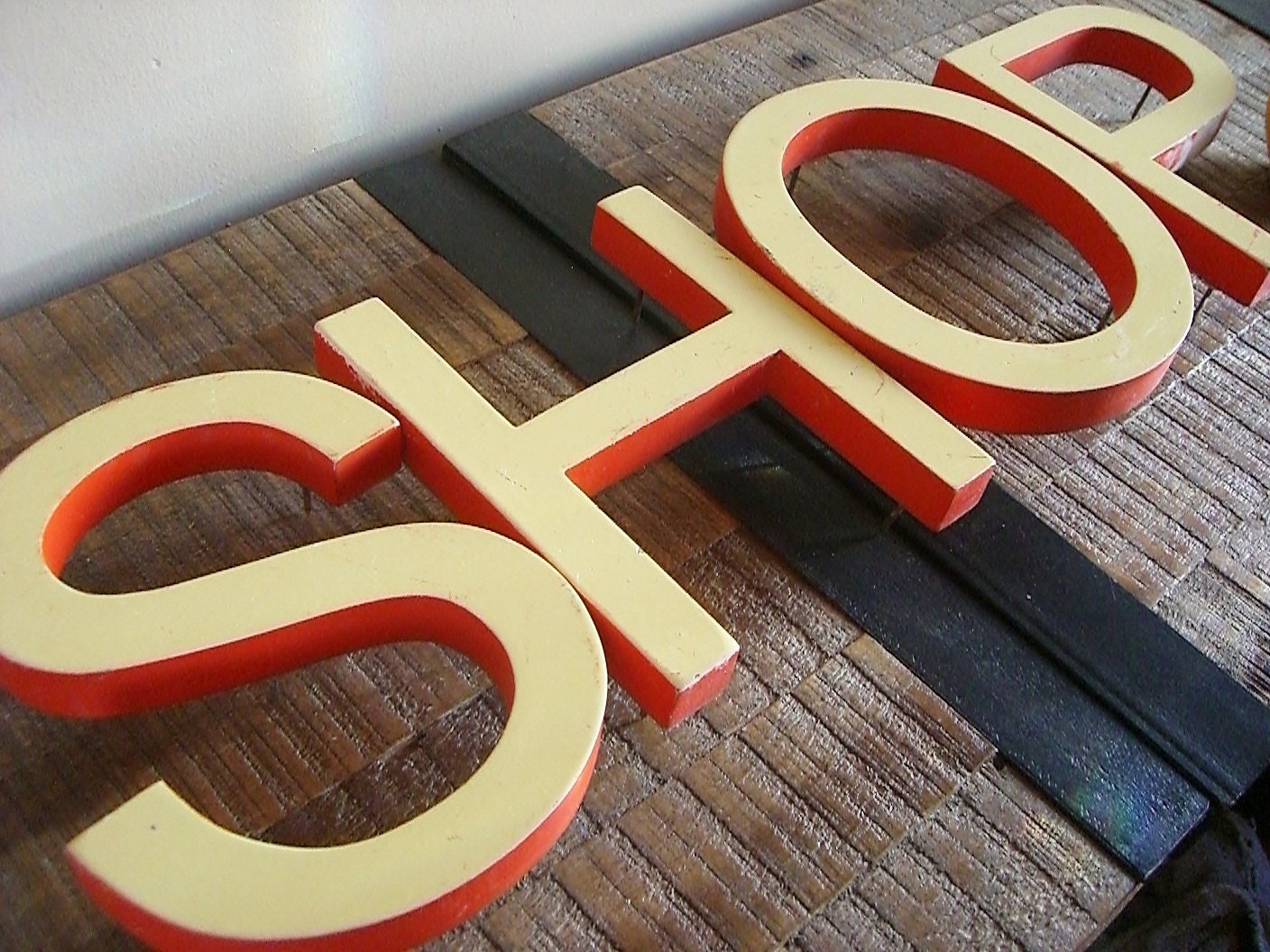 letters and numbers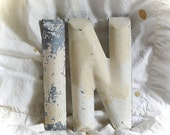 all fonts, sizes and colors, wooden, metal or plastic.  Some of the bigger chains carry "vintage inspired" but I suggest buying the real deal, it's better for the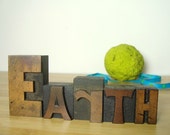 .  They run anywhere from $6 up into the hundreds, mainly depending on size.  These great pieces of  
come from old theaters, store fronts, highway signs, marquees, gas stations…well just about anywhere. So if you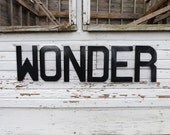 what to do, just remember,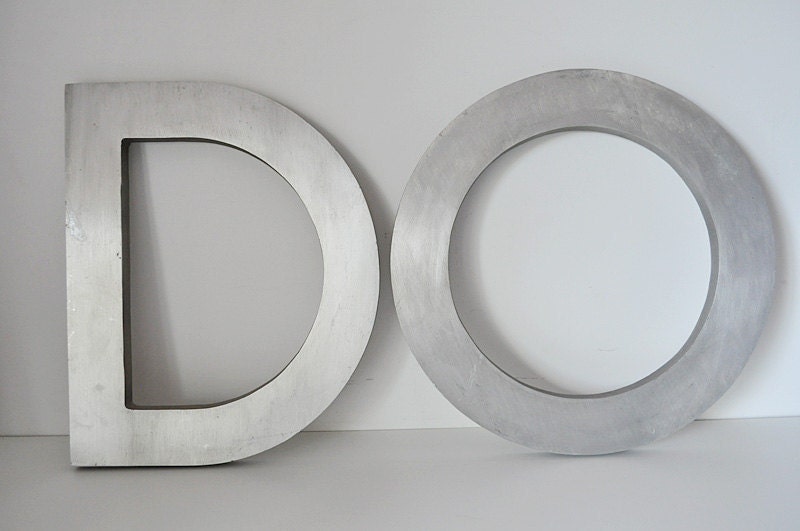 what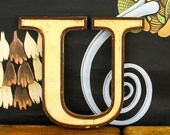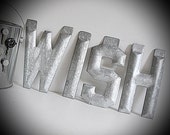 ,
go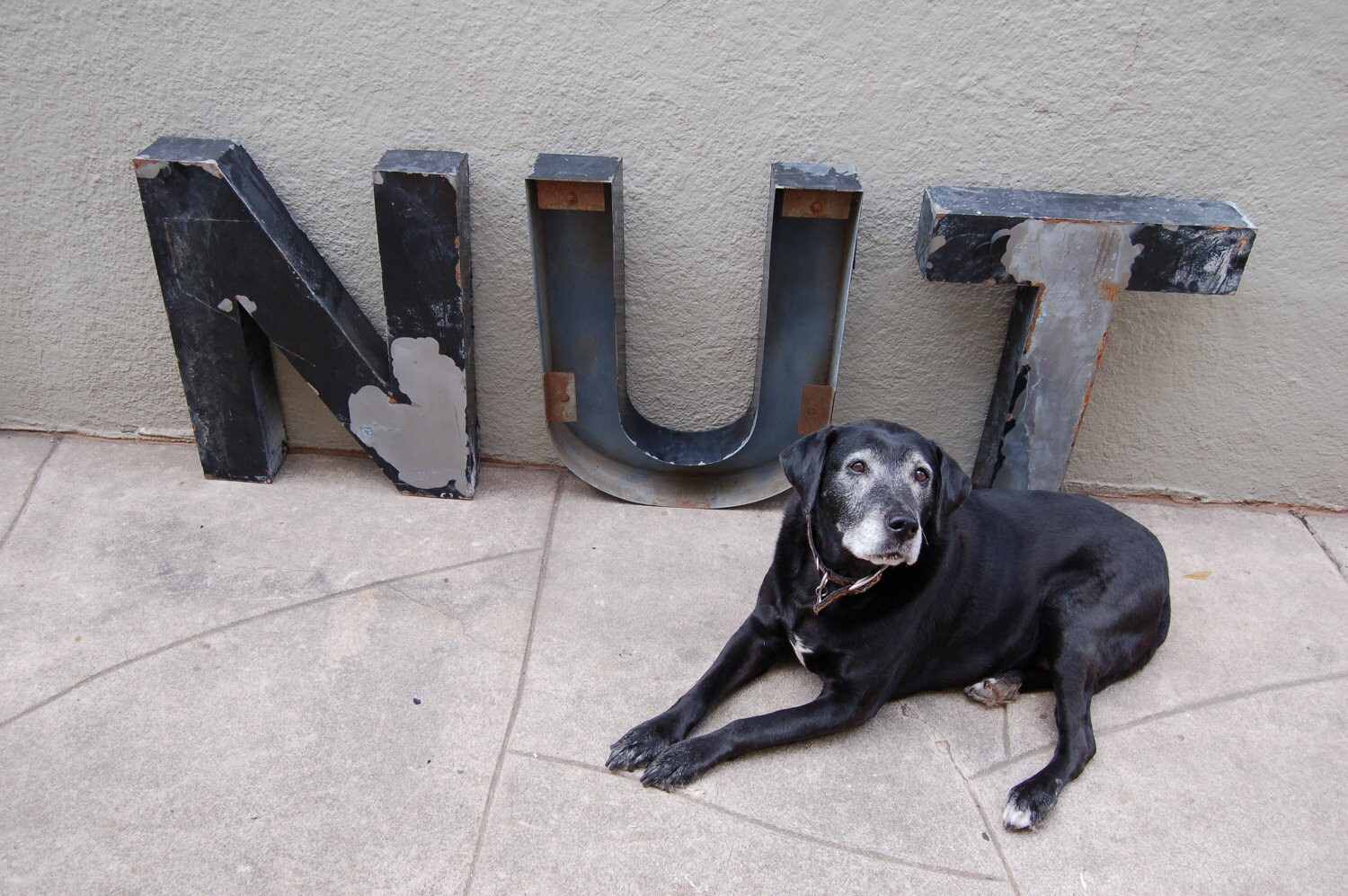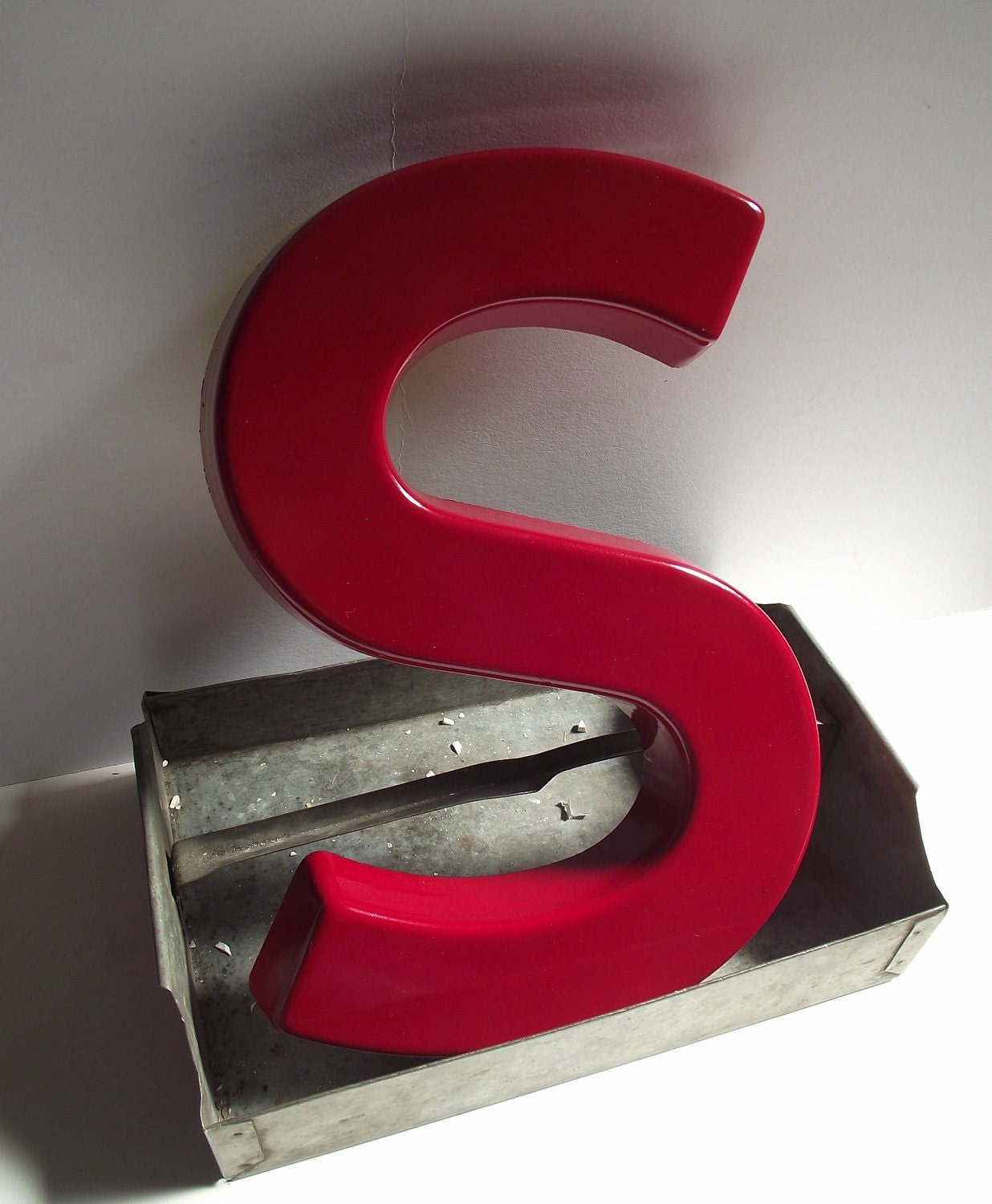 and always keep it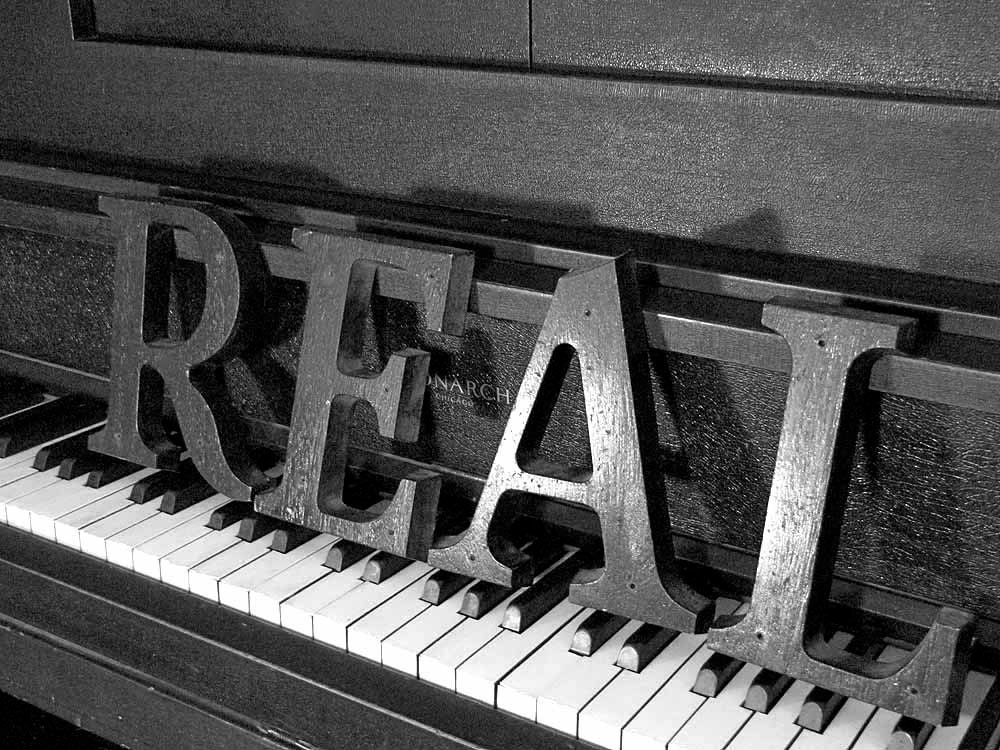 !
AND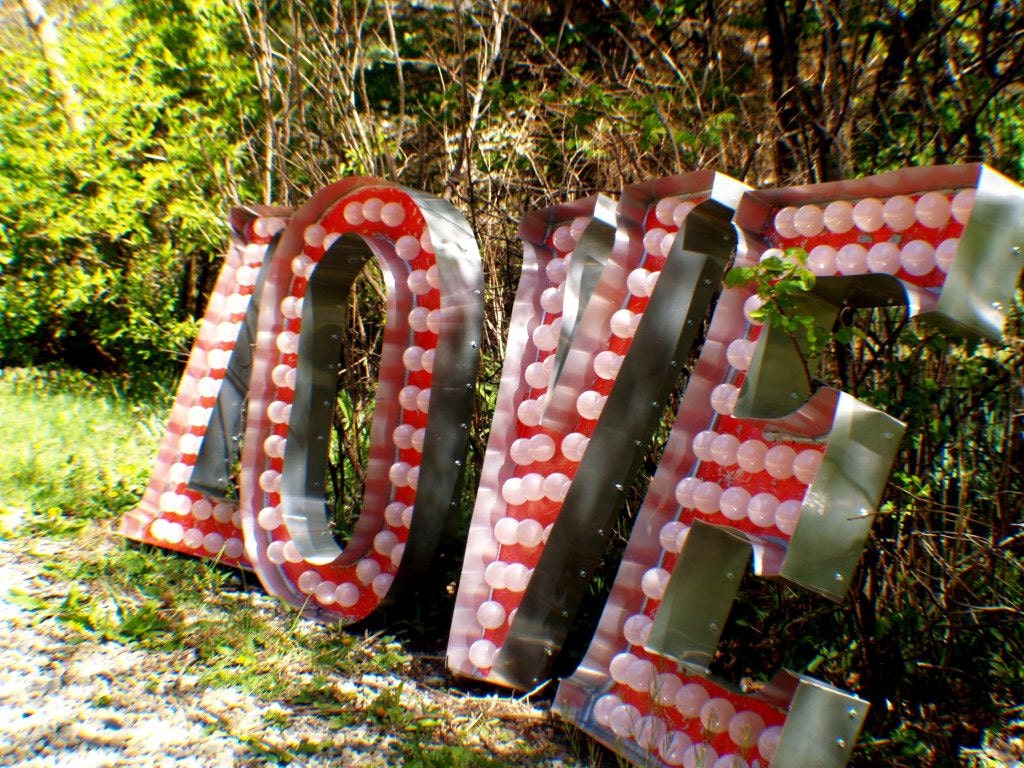 , SHARON
REUSE THE BEAUTY OF THE PAST TO CONSERVE WHAT WE HAVE FOR THE FUTURE.  Visit STYLE REVIVAL in the Antiques Market on Coleman Blvd, Mt. Pleasant and walk away with a piece of the past.